Author Julie Wosk Welcomes You to Her Ground-Breaking Book WOMEN AND THE MACHINE. To Contact Dr. Wosk, write to jwosk@sunymaritime.edu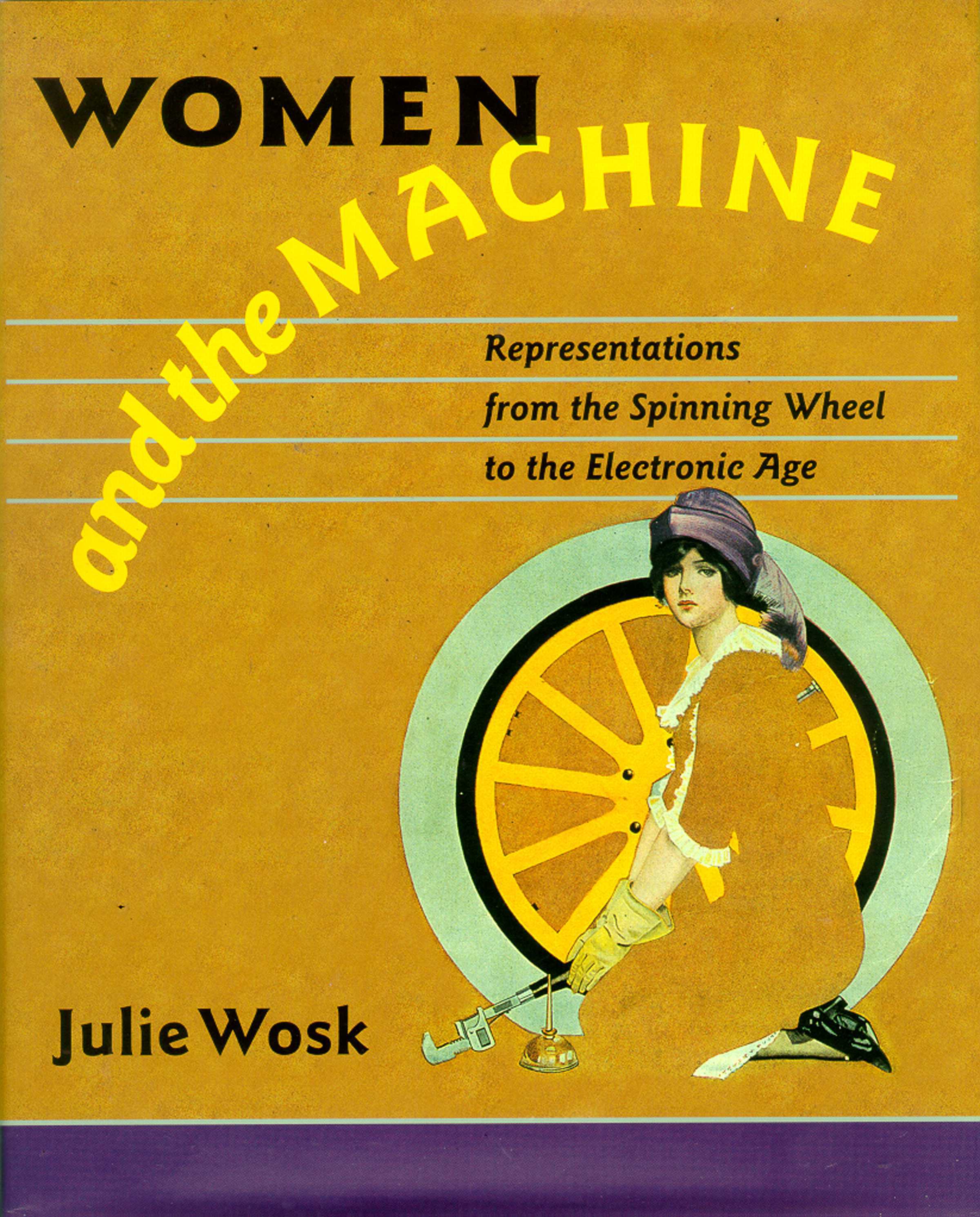 From CHOICE--"Wosk (English, art history, and studio painting, SUNY Maritime College) offers a delightful book framed by captivating illustrations that support and enrich the text. Eight chapters treat women's relationships to fashion, transportation, electricity, and war through historical material and illustrations...Viewing women as mechanical and unmechanical, and machines as sexy, masculine, and feminine helps Wosk to explore questions and controversies about women and machines...Reproductions of the classic Rosie the Riveter and We Can Do It are included, along with a wealth of other images of women empowered by and through machines (the bicycle images are fabulous."---CHOICE

From PUBLISHERS WEEKLY---
"The image of the flustered woman unable to change a tire or recognize a Phillips screwdriver is so common it's practically archetypal--but then, so is her counterpart, Rosie the Riveter. Wosk (a professor of English and art at the State University of New York, Maritime College) takes these images--their place in history, literature, art and advertising--and deconstructs them in this engaging and entertaining but nonpreachy feminist history...Using illustrations, cartoons, and photographs from the past three centuries, Wosk delineates the shift in social acceptance of women's relationship to technology. Typewriters, spinning wheels, sewing machines and household appliances are all given their due, as are bicycles, cars and airplanes....Her work is complex, comprehensive, and highly readable."
Julie Wosk's WOMEN AND THE MACHINE tells the fascinating story of how women and machines have been portrayed over the past two centuries. From Alarming Woman Driver to Rosie the Riveter to women artists using electronic technologies today, this lavishly illustrated book captures dramatically changing social attitudes about women and their technical abilities

With over 150 photographs, art works, cartoons, and advertisements--many in color--WOMEN AND THE MACHINE highlights the important role women and machines have played in history. Its wide-ranging images present women successfully mastering new technologies: women driving automobiles, bicycling, flying and repairing airplanes, operating machines in World War I and II, using sewing machines,electric home appliances, typewriters, computers, and more. Wosk details the gender stereotypes that have haunted women for centuries and the ways women have countered these stereotypes by mastering technology and demonstrating their technical skills.

Chapters also include women as automatons, robots and cyborgs, women working in industry, Women Airforce Service Pilots (WASPs),women mechanics, women artists creating electronic images, nineteenth-century women dressed in wired bustles, corsets, and crinolines, and more.

"Engaging and entertaining"--PUBLISHERS WEEKLY

"Combined with superb graphics, Wosk shows that the gender gap in today's technology workplace has very deep roots"--CHICAGO TRIBUNE